This case study from Trello is straightforward and easy to understand. It begins by explaining the background of the company that decided to use it, what its goals were, and how it planned to use Trello to help them.
What Is a Case Study in Marketing?
For that reason, it helps to know you'll perform a case study from the beginning. In other words, try not to reverse-engineer a case study from a great result. Instead, track your arrangement with your customer throughout the process.
Imagine that you're a customer who's trying to decide between two businesses, each of which offers time management software. One company has a marketing case study that illustrates how it helped a customer save four hours per week. The other company has no case study.
Too many businesses copy their competitors or other businesses. Instead, you should spend time being more creative and innovative. Below is a video by Neil Patel that illustrates why you need to quit copying digital marketing strategies.
Why is it so important to build trust?
Marketing case studies show how you tackled a problem and overcame it on behalf of your customer or client. It's that simple. The more detail you give, the more authority you create for your company — and the more your leads will trust your expertise.
4 Case Study Examples
1. HubSpot
The Shopify case study by HubSpot demonstrates how a narrative can be woven from a company's journey. When Loren Padelford became head of sales, he immediately identified weak spots in Shopify's sales cycle, so he decided to adopt HubSpot.
This case study highlights the ways in which Shopify used HubSpot's email plugin to save time and improve communication flow. There's a quote from Padelford in the case study, which can add even more impact in terms of building trust among leads.
2. Bit.ly
Ecommerce marketing case studies can become extremely valuable. In this case, Bit.ly used a more traditional template for a marketing case study. The PDF document includes several sections that take you through the process of how Vissla improved its omnichannel marketing with Bit.ly.
The results were that Vissla was able to visualize and centralize data in one place. They gained greater control over their social media marketing, which resulted in faster and better improvements in the content they shared.
There's also a quote from Vissla's media marketing manager, Keegan Fong: "Bitly Campaigns offers us a whole new way to look at our marketing channels. By giving us an easy-to-use dashboard that instantly displays the results of our multichannel promotions, we can see what kinds of content work on what channel, which channels we should be investing in the most, and what we need to do to optimize our content." [ For Social: @vissla ]
3. Viperchill
There's a great marketing case study from Viperchill that you'll want to check out. It's a quick, fun read that explains how the author created a squeeze page that generated more than 700 leads and results in a conversion rate of 64 percent.
4. MarketingSherpa
This MarketingSherpa case study is super detailed and describes the process by which MarketingSherpa helped a natural foods company boost revenue by 18 percent with a site redesign. You see the entire project from start to finish.
You'll notice that there are lots of visuals. Since this marketing case study focused on design, visuals were imperative. Let your business and its niche guide the way in which you construct your case study.
Case Study Templates
Tell us a little about yourself below to gain access today:
And to give you more options, we'll highlight some useful templates that serve different needs. But remember, there are endless possibilities when it comes to demonstrating the work your business has done.
1. General Case Study Template
Starting off with a straightforward, generic template can be a great foundation for your case study. With this first template, your business can elaborate on any solution provided to a satisfied customer — from their background, to what led to them doing business with you, to the results they've seen.
Along with the simplistic design of this template, each section is clearly distinct and outlines the type of information or direction to take to tell you and your customer's story better. And for added benefit, when you download this template you'll find bracket prompts for ideation and instructions to follow as you fill it in.
2. Data-Driven Case Study Template
For those looking to show off objective and numeric solutions, HubSpot's Data-Driven template is a great template to work with. It's structured to highlight the most notable achievement metrics that a specific customer has seen with your product and/or service.
As you work through this template, you'll find similar bracketed prompts and sections as the generic template — but with more eye-catching visual cues for your customer's success points to be properly showcased.
3. Product Specific Case Study Template
This template relies less on metrics, and more on highlighting the customer's experience and satisfaction. As you follow the template instructions, you'll be prompted to speak more about the benefits of the specific product, rather than your team's process for working with the customer.
4. Bold Social Media Business Case Study Template
In this template, you can tell the story of how your social media marketing strategy has helped you or your client through collaboration or sale of your service. Customize it to reflect the different marketing channels used in your business and show off how well your business has been able to boost traffic, engagement, follows, and more.
5. Lead Generation Business Case Study Template
It's important to note that not every case study has to be the product of a sale or customer story, sometimes they can be informative lessons that your own business has experienced. A great example of this is the Lead Generation Business case study template.
If you're looking to share operational successes regarding how your team has improved processes or content, you should include the stories of different team members involved, how the solution was found, and how it has made a difference in the work your business does.
How to Write a Case Study
1. Get started with case study templates.
2. Determine the case study's objective.
3. Establish a case study medium.
Case studies don't have to be simple, written one-pagers. Using different media in your case study can allow you to promote your final piece on different channels. For example, while a written case study might just live on your website and get featured in a Facebook post, you can post an infographic case study on Pinterest and a video case study on your YouTube channel.
Written Case Study
Consider writing this case study in the form of an ebook and converting it to a downloadable PDF. Then, gate the PDF behind a landing page and form for readers to fill out before downloading the piece, allowing this case study to generate leads for your business.
Video Case Study
Infographic Case Study
Use the long, vertical format of an infographic to tell your success story from top to bottom. As you progress down the infographic, emphasize major KPIs using bigger text and charts that show the successes your client has had since working with you.
Podcast Case Study
Podcasts are a platform for you to have a candid conversation with your client. This type of case study can sound more real and human to your audience — they'll know the partnership between you and your client was a genuine success.
4. Find the right case study candidate.
Product Knowledge
It helps to select a customer who's well-versed in the logistics of your product or service. That way, he or she can better speak to the value of what you offer in a way that makes sense for future customers.
Remarkable Results
Clients that have seen the best results are going to make the strongest case studies. If their own businesses have seen an exemplary ROI from your product or service, they're more likely to convey the enthusiasm that you want prospects to feel, too.
One part of this step is to choose clients who have experienced unexpected success from your product or service. When you've provided non-traditional customers — in industries that you don't usually work with, for example — with positive results, it can help to remove doubts from prospects.
Recognizable Names
While small companies can have powerful stories, bigger or more notable brands tend to lend credibility to your own. In fact, 89% of consumers say they'll buy from a brand they already recognize over a competitor, especially if they already follow them on social media.
Switchers
5. Contact your candidate for permission to write about them.
To get the case study candidate involved, you have to set the stage for clear and open communication. That means outlining expectations and a timeline right away — not having those is one of the biggest culprits in delayed case study creation.
Most importantly at this point, however, is getting your subject's approval. When first reaching out to your case study candidate, provide them with the case study's objective and format — both of which you will have come up with in the first two steps above.
To get this initial permission from your subject, put yourself in their shoes — what would they want out of this case study? Although you're writing this for your own company's benefit, your subject is far more interested in the benefit it has for them.
Benefits to Offer Your Case Study Candidate
Brand Exposure
Explain to your subject to whom this case study will be exposed, and how this exposure can help increase their brand awareness both in and beyond their own industry. In the B2B sector, brand awareness can be hard to collect outside one's own market, making case studies particularly useful to a client looking to expand their name's reach.
Employee Exposure
Allow your subject to provide quotes with credits back to specific employees. When this is an option for them, their brand isn't the only thing expanding its reach — their employees can get their name out there, too. This presents your subject with networking and career development opportunities they might not have otherwise.
Product Discount
This is a more tangible incentive you can offer your case study candidate, especially if they're a current customer of yours. If they agree to be your subject, offer them a product discount — or a free trial of another product — as a thank-you for their help creating your case study.
Backlinks and Website Traffic
Here's a benefit that is sure to resonate with your subject's marketing team: If you publish your case study on your website, and your study links back to your subject's website — known as a "backlink" — this small gesture can give them website traffic from visitors who click through to your subject's website.
Additionally, a backlink from you increases your subject's page authority in the eyes of Google. This helps them rank more highly in search engine results and collect traffic from readers who are already looking for information about their industry.
Business case study examples
LOCALiQ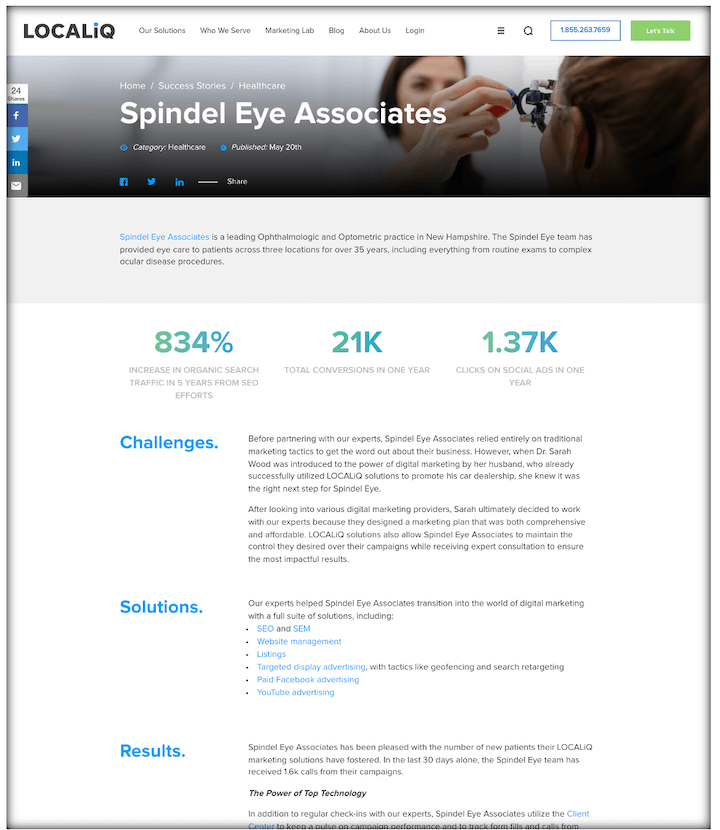 Intercom

Mailchimp
Wrike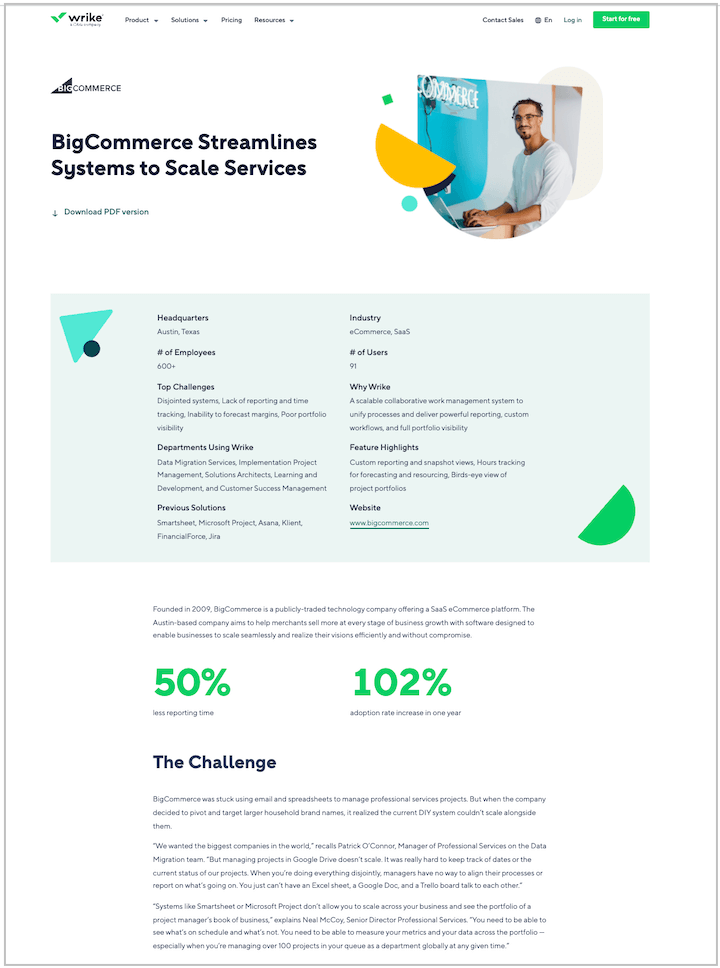 Slintel
Marketing case study templates
No two businesses are alike, and case studies vary widely in terms of style, tone, and format. One thing that all marketing case studies share, however, is their purpose – to convince prospects that doing business with you is a good idea. With these case study steps, tips, examples, and templates, you'll be well on your way to producing stories your prospects will actually want to read.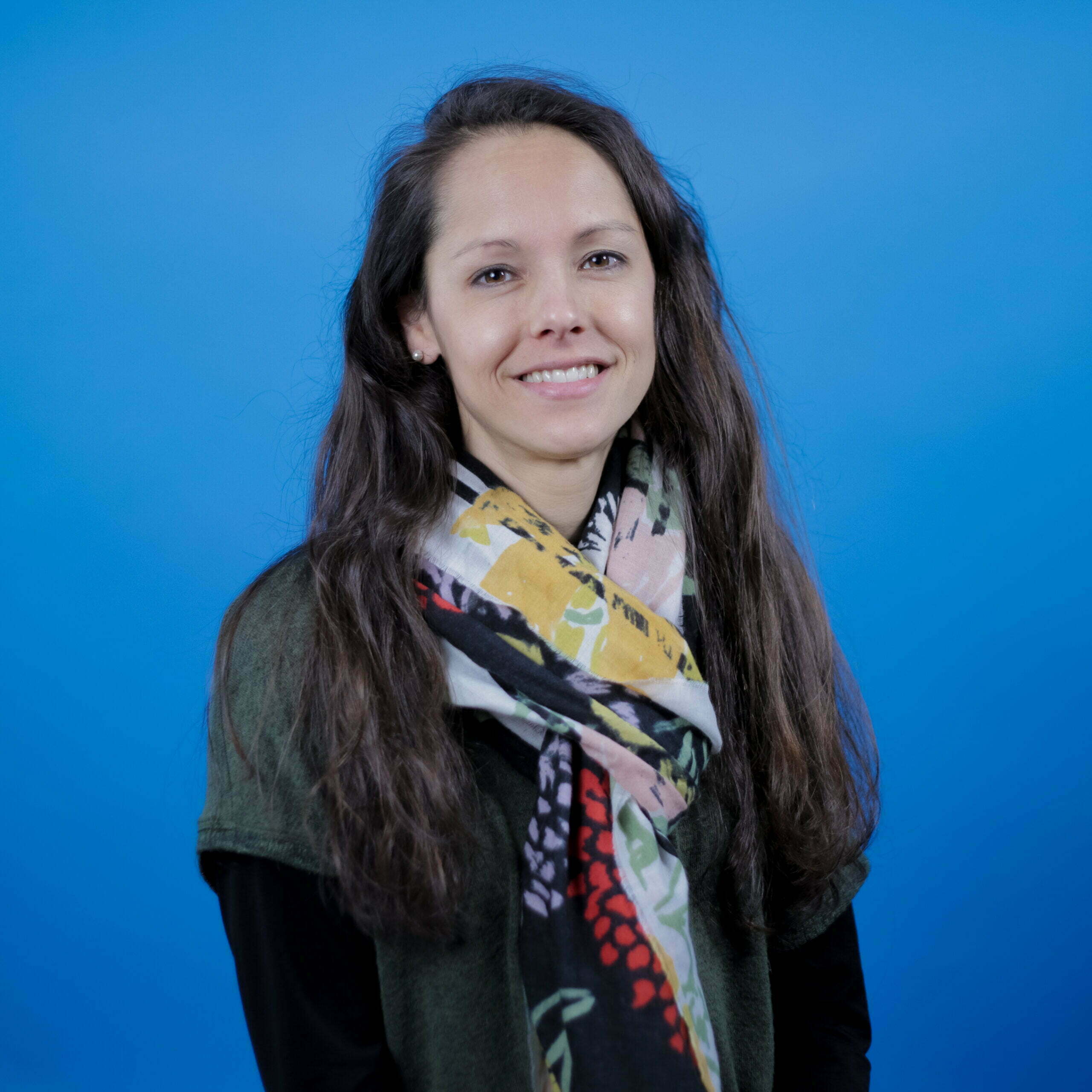 Meet The Author
Kristen McCormick
Kristen is the Senior Managing Editor at WordStream, where she helps businesses to make sense of their online marketing and advertising. She specializes in SEO and copywriting and finds life to be exponentially more delightful on a bicycle.
Sources:
https://www.crazyegg.com/blog/case-study-marketing/
https://blog.hubspot.com/blog/tabid/6307/bid/33282/the-ultimate-guide-to-creating-compelling-case-studies.aspx
https://www.wordstream.com/blog/ws/2017/04/03/how-to-write-a-case-study